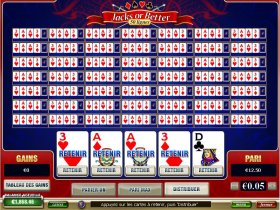 Jacks or Better (50 lines)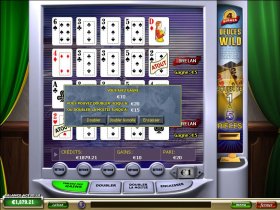 Deuces Wild (4 lines)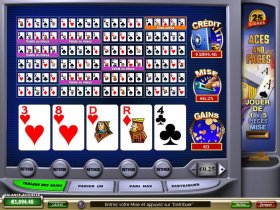 Aces and Faces (25 lines)





1/ First of all, press the INSERT COINS button to insert dimes into the slit and decide upon your bet. You may insert as many dimes as you wish and choose the value of your tokens.





2/Choose your tokens' value. For example, if you put $15 in the machine and your chosen token's value is $1, your credit for tokens will be set at $15. Video Poker machines will usually accept values ranging from $0.25 to $5. The value of your tokens is shown on the BET meter.





3/ Determine your game's bet. The number of tokens you bet on each game is between 1 and 5 and is shown on COINS BET. If you want to bet on more than one token, press either on BET ONE (BET A DIME) or on BET MAX (BET MAXIMUM), if you wish to bet the maximum. The machine will the number you have specified. If the number of tokens specified is four and you wish to change the number in the next game, click on BET ONE. Once the meter reaches five tokens, and you click again, it comes back to 1.





4/ Click on the DEAL button to start the game. The machine will deal you five cards. Look at them carefully and pick out those you want to play with (HOLD button). Every time a card shows a greater value, press on HOLD. Once you have chosen the cards you wish to keep, presss on DEAL (or DRAW) to replace the others.





5/ See if your hand is a winner and if so, what gain it will make you. The payoffs are shown in the meter as GAINS or WIN. If you have won, you may bank and double your gains.




6/ If you choose to try and double your gains, press on the DOUBLE button. Five cards will appear on the screen of which one face up. You must choose one of the remaining four cards: if this card is higher , your bet is doubled.

If not, you will lose your gains. You may choose not to double your bet and simply keep the gains. To do that, press on the CASH button (CASH WIN). Some poker games only allow players to double on half of their gains.

7/ You may continue to play as long as you wish. Once you have played out your hands and have cashed your gains, you will receive a new sequence of five cards. You may choose to either play with the same value and same bet or modify them. Start again at stage 4.

8/ Once you have finished your game, click on COINS OUT (bank) to receive your credits. The credits thar are still in the machine will be returned and your gains will be credited to your balance.