Jacks or Better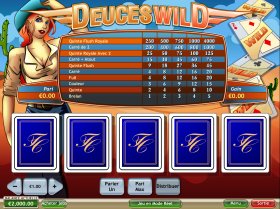 Deuces Wild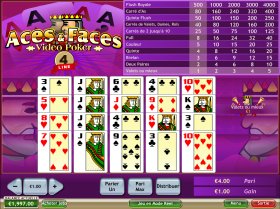 Aces and Faces (4 lines)

The Game

As in a traditional poker, the player has to come up with combinations of winning cards in order to win its initial bet. The goal is to form the best hand between the cards dealt and the other cards. In the game'« Jacks or Better », the object is to get one pair of jacks minimum or better.
Video Poker is inspired by poker and especially by five card draw poker. It is a new game and it quickly became popular thanks the combination between the rules of slot machines and traditional poker. It can be played in either land based casinos or in online casinos without having to change the rules since they are both played on a screen.

There are, nevertheless, several variants according to the Video Poker machines. For instance, in line with the machine's chosen language, the terms used for the different buttons may be given in either English or French. As for the game's level, there are no great differences: the kind of poker employed is nearly always the Draw Poker otherwise known as five- card draw poker. When you know the game it can easily be played on a Video Poker. Even so, several variants do offer different payoff percentages:

Jacks or Better
Deuces Wild
Aces and Faces
Jacks or Better is the most common game. It may be found, according to the machines, on a one liner (classical) or a four liner. It is preferable for new players to start with Jack or Betters.

Deuce wild is slightly more complicated than Jacks or Better. Whereas in Jacks or Better all jacks are wild, in Deuce Wild, all twos (2) are wild. Twos (2) are worth the same as Jacks and a player having three of them (three of a kind) wins the game.

In Aces and Faces, meanwhile, a player wins a jackpot if he has 4 aces. There are two variations of Aces and Faces: four liners and twenty-five liners.

There are two types of machines:

Machines with multiple hands (traditional)
Progressive jackpot machines (with a special jackpot for high ranking hands)
The traditional machines with multiple hands work with payments enabling the proportional increasement according to the value of the hand. The greater the value of the hand, the greater the proportional profit will be.

The progressive jackpot machines operate similarly but offer bigger payoff percentages for high ranking hands. When you get a winning hand at a traditional machine, the payoff will be bigger (for example, 800 to 1 for a royal flush). On a progressive machine, a royal flush is rewarded with an ever bigger jackpot. It is therefore advised to play on a progressive machine since it would be a waste to loose such an amount of money (just think how a flush royal built on a traditional machine could have gotten you hundreds of thousands of dollars on a progressive machine!).