Birth and Evolution of the Slot Machine
The first slot machine with reels, better known under the name of Liberty Bell was produced in 1905 by its inventor, Charles August Fey, born into a German family in Bavaria in 1862. He discovered very early an enduring interest in machines, and after working at several jobs, he went to live in New York, then California.

Fey established his own telephone, electric equipment and spare parts company, and as such he was producing mechanical parts for the slot machines of the famous manufacturer Gustav Shultze; his slot machines were not with reels. In 1894 Fey decided to build his own slot machine with three wheels, as opposed to reels.

In 1895 Fey started to develop a passion for the construction of these one arm bandits. He built a machine with a concentric front plate axed on a popular lottery. Realizing how successful it was he then decided to dedicate himself to the construction of other such machines. In 1896, he created another company and started working on a machine with reels, which has fewer limitations than one with wheels. From several points of view, this reel machine, 'Liberty Bell', was revolutionary. Smaller, made of metal, and on each one of its reels, symbols such as the liberty bell, spade, heart, diamond and horse shoe. It offered a thousand possible combinations, with 10 stops per reel, when the wheels offered only about a hundred combinations. This type of mechanical slot machine would survive up to the 1960's, when it would be superseded by the electro-mechanical slot machine of Bally.

Charles Fey's slot machines, a great popular success, drew competition, and one of the Liberty Bell machine was stolen. Fey's mistake was that he wanted to keep the exclusivity for the manufacturing of his machine instead of offering his patent for sale. In 1906, the manufacturer Mills produced a similar machine to his, followed by several others such as Watling and Caille

Slot machines were popular with the public but they are not well regarded by American law makers who decided to introduce legislation to suppress them. But Mills had an idea that would enable the one arm bandit to survive. He attached a sweet distributor to each of them, replaced the symbols on the reels by others of fruit suggesting sweets: plum, orange, lemon, cherry and mint. The bell was the only symbol not to be suppressed as a tribute to its inventor.
This is how it worked: the player bought sweets with coins, and according to the combination he would or would not win tokens which he could exchange for drinks or other things. If the same player inserted a token, he would be able to spin the reels of the slot machine.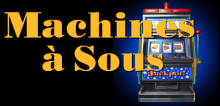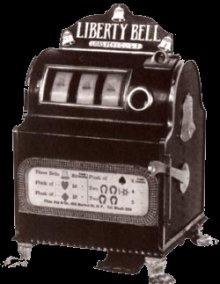 FEY Liberty Bell - 1896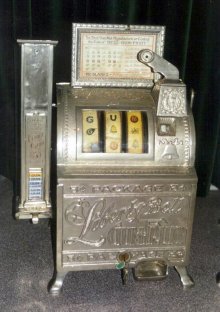 MILLS Liberty Bell